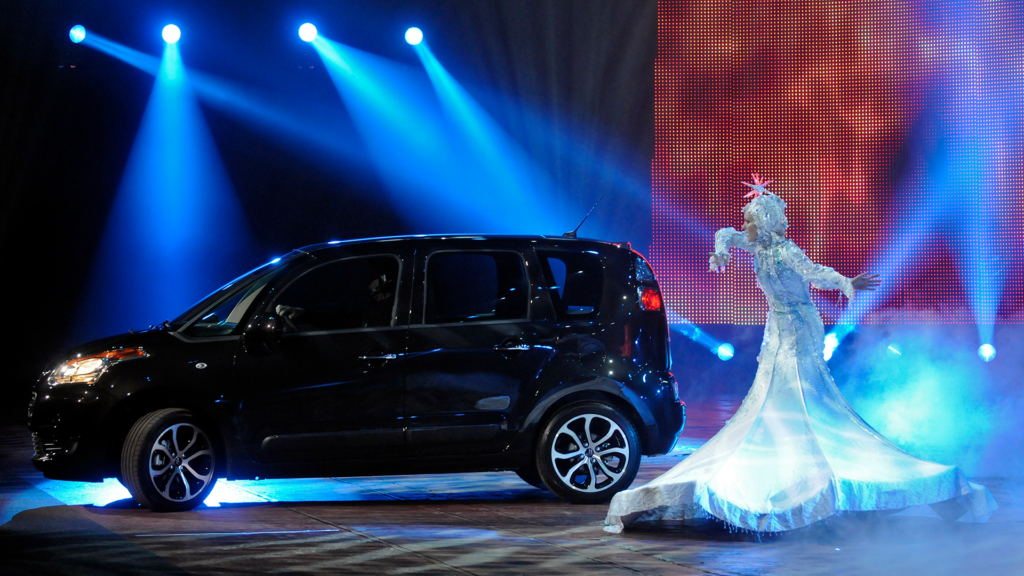 Like magic, the Magic Movers seem to float above the ground. They are both delicate, majestic, seductive, as well as funny and entertaining. 
Suitable for following events:
Eye-catcher on all events
The Magic Movers (green trees, crystal lady) is a dynamic show act that is performed outside or inside a building, on stage or on a wide terrain (expo, fair trade, festival).
Ideal als Indoor- oder Outdoor Event
Floating artists are moving among the crowd. They are going to impress your visitors on your event by their artistic movements, music and costumes. Every Magic Mover can be equipped with a soundbox. A highlight that will astonish your guests or clients at your event

In order to watch entirely the 360°-Video, please move the Hand-Cursor on the video-image from left to right and from top to the bottom.
2. Option: Click on the steering-wheel at the top left corner in order to move in any direction of the virtual video.
Green trees that fit to a certain scenery. They are moving from one place to another and will impress adults and children, your target group on a festival or as entertaining or opening part of your show.
Green impresses in any kind by their dancing green trees and beautiful movement. The dancers Lotta Svalberg and Pascal Sani are developing extraordinary ideas with fantastic choreographies and great equipment for different events and product presentations. For bigger stage performances they work with a team of artists.
Magazine Gartenbau Report
Dear family Sani/ Svalberg, our guests were impressed again. Many thanks that you contributed successfully to our work again. All the best and see you soon!
Deutsche Telekom Stiftung
Andrea & Team
It was touching and I was impressed by their performance. I think it was fascinating. They brought me to another world.
Connie